Meet the tenants
The building is home to a variety of tenants who have chosen Hackney Wick, offering the right balance between productivity and hipness, as their base.
Click on each floor to reveal the current tenants.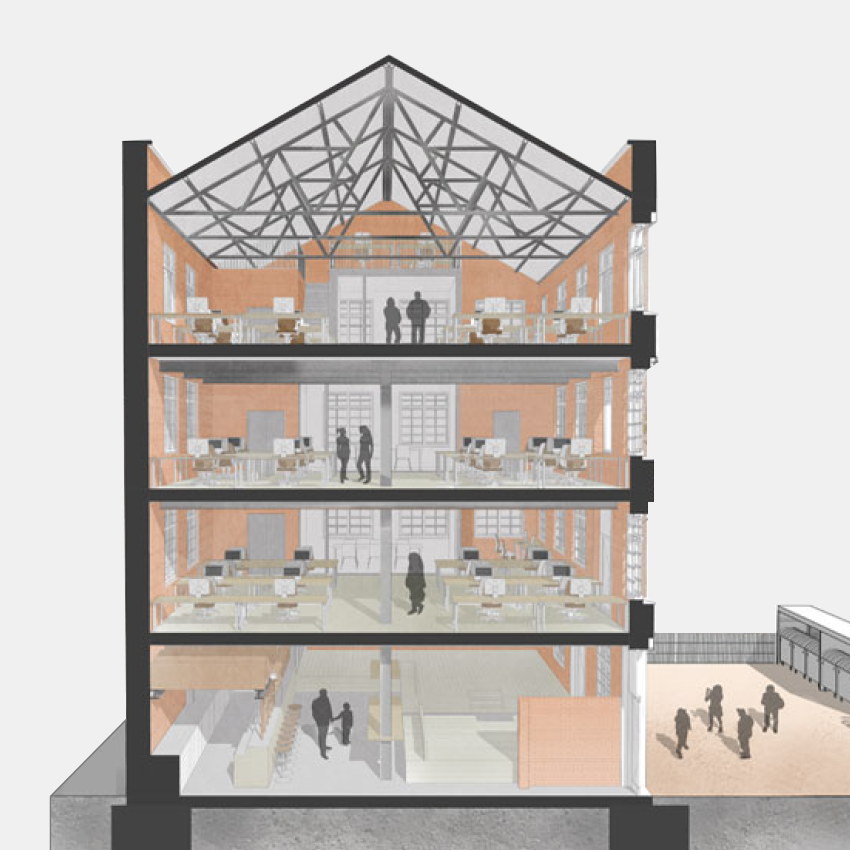 TOP FLOOR
CARHARTT
Carhartt are a fashion brand known for their worker-style clothing. The company was founded in 1889 with the motto: "Honest value for an honest dollar." Originally they made well-researched and resistant clothing for railroad workers but by the first world war were making clothing for soldiers too. The quality of their apparel has stood the test of time and they've evolved to become a highly successful brand with their own, unique and durable, aesthetic.
SECOND FLOOR
RAINS
RAINS is a company that produces outwear and waterproof clothing. Hailing from rainy Denmark, they make practical apparel that is drenched in attitude, and their simple yet stylish designs mean you won't mind getting wet.
FIRST FLOOR FRONT
KENDU
Kendu provide creative solutions for the retail sector. From store design and architecture to visual merchandising and marketing, they are a one-stop-shop for shops and vendors. The market leaders have a client base including Topshop, House of Frasier, Macy's and the O2, and that really speaks for itself.
GROUND FLOOR
BEER MERCHANTS TAP
The Beer Merchants Tap is a craft beer bar and bottleshop. The industrial and design-led venue has 22 taps, and 500 bottles and cans from the world's best breweries on offer. At certain times of year they even make lambic-style sour beers from their very own blendery. With artisanal cheeses and meat platters to enjoy, and a selection of street-food trucks on the weekends, it's the perfect place to relax or collaborate after a long day's work.
FIRST FLOOR REAR
TELFORD HOMES
Telford Homes are a property development company with an astounding portfolio. Established in 2000, they have grown to become one of London's largest residential developers. Focusing on sustainability, and social principles, it is little wonder that they are at the forefront of their field. With a forthcoming development to regenerate Hackney Wick, they are only set to build upon their success.